Workshop: Basic wood sculpture technique
---
Please note that this page is not fully up to date with this years workshop. Please see the Swedish version of the page to get the latest info, or contact us!
---
During the workshop you will practice a method for wood sculpture that lends itself to efficient work in larger as well as smaller formats. The technique stems from Japanese tradition.
You will work in different sorts of wood to get to know the possibilities of the material in the making of art and sculpture.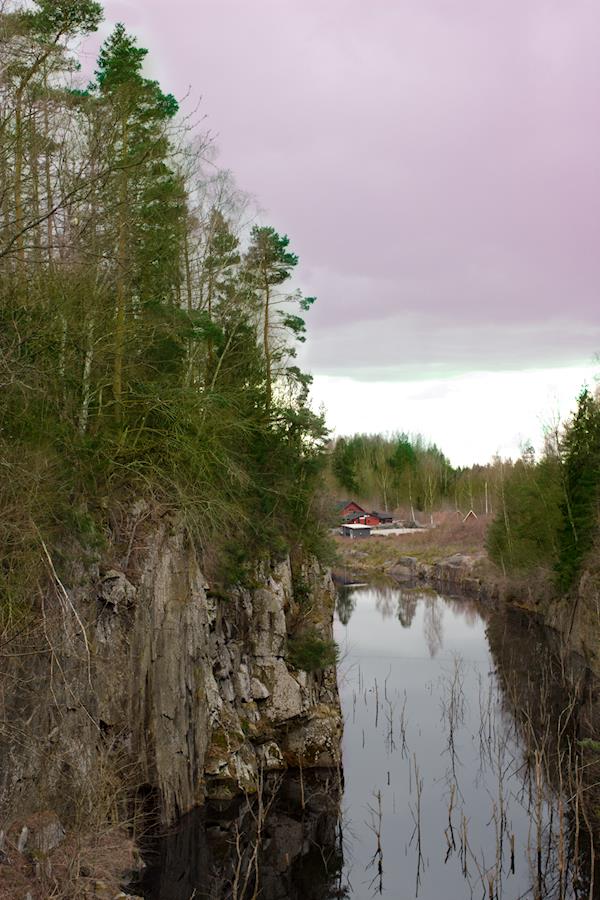 The workshop is in a basic level and will suit the beginner aswell as the sculptor looking for deeper knowledge. Our intent with the workshop is to build a solid foundation of knowledge for the beginning wood sculptor and a scenic rescidence in a relaxing inviroment.
The workshop takes place in the old Svarta Bergen quarry, famous for its world renowned black diabase rock. In the valley next to us, diabase is still quarried to be shipped all over the world for use in buildings and monuments.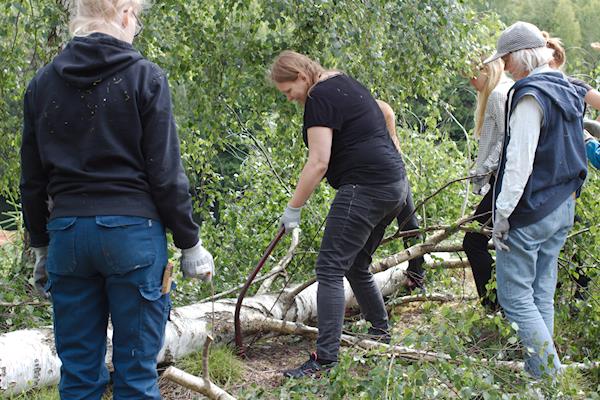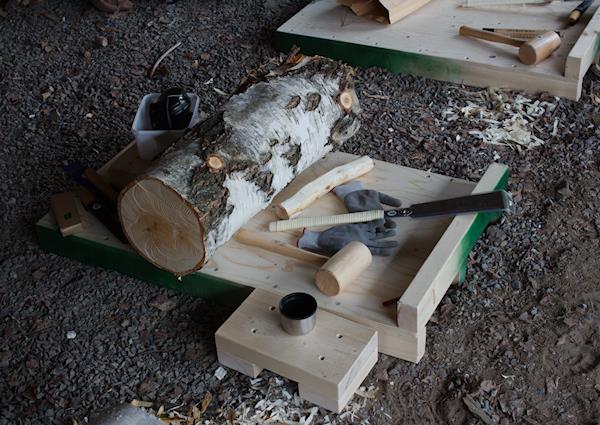 Sign up for our newsletter to receive news about this and other workshops!
Facebook event for this workshop.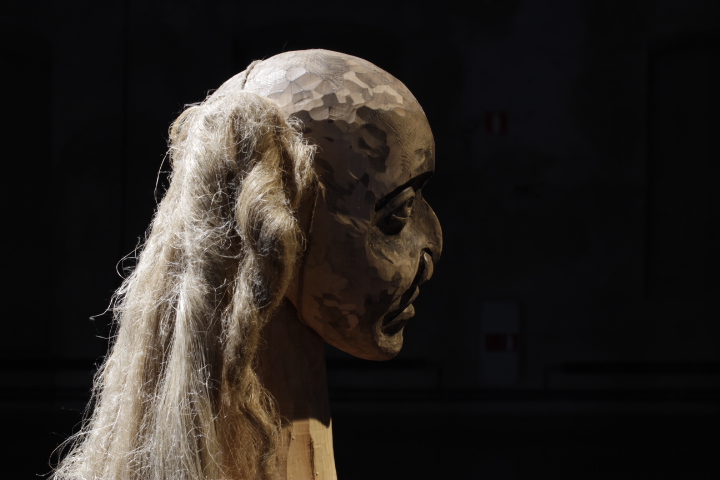 Workshop fee
9 500 SEK (incl. 25% VAT)
The workshop fee includes wood material for the exercises, hostel accommodation and entrance to the Svarta Bergens arbetslivsmuseum. At the end of the workshop the participants will be handed all written material for the lectures and a workshop certificate.
The course is open for 10 participants. No previous knowledge needed and we practice a first-come, first-serve policy.
Workshop setup
Every day begins with a softening stretch that prevents damage to the body. Then lectures are followed by sculptural exercises. In the initial phase of the workshop you will study basic shapes, such as cubes and spheres. Then we move on to a free expression where your own ideas and sketches will be the foundation of the work. Tuition takes place between 09:00 am and 04:00 pm. You have access to the workplace around the clock.
The pase of the workshop is high and we do not expect the participants to complete all the exercises during the workshop. Instead, we introduce a variation of exercises, after which you choose what you want to focus on.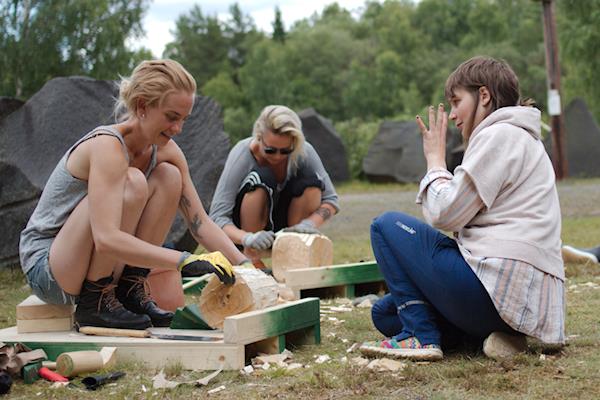 During the workshop, the following lectures are held:
Characteristics of Swedish woods' for wood sculpture.
Work with knife and axe. Safety with cutting tools.
Work with sawing tools: hand saw, japanese saw and electric saw.
Debarking and fiber orientation.
Work with wood chisel, gouge and hammer.
Sharpening cutting tools.
Compounds, joints and holes.
Drying wood and how to repair cracks.
During the workshop you will do the following exercises:
Carve in different types of wood.
Sculpt a cube and a sphere in fresh wood.
Sculpt a simple solid object (max 35×30×25 cm).
Sculpt a more complex object, with holes and protruding parts in a free scale.
The workshop starts Monday 25th of June and the participants will meet up at Lönsboda station at 08:30 am. The workshop ends Sunday 1 July at 12:00 pm.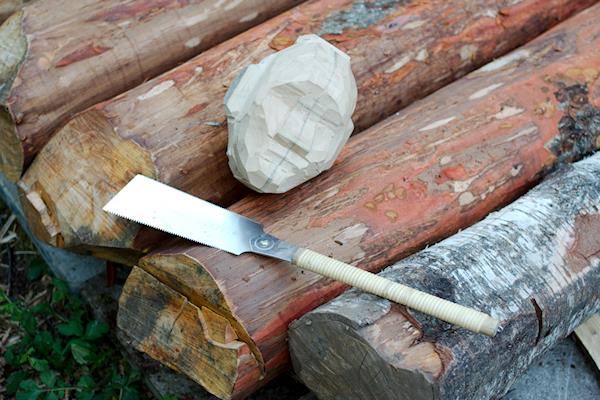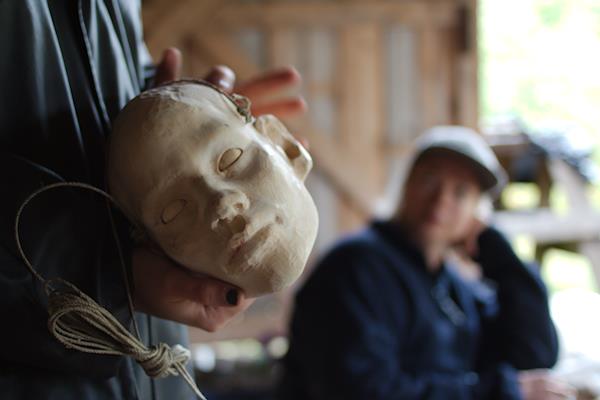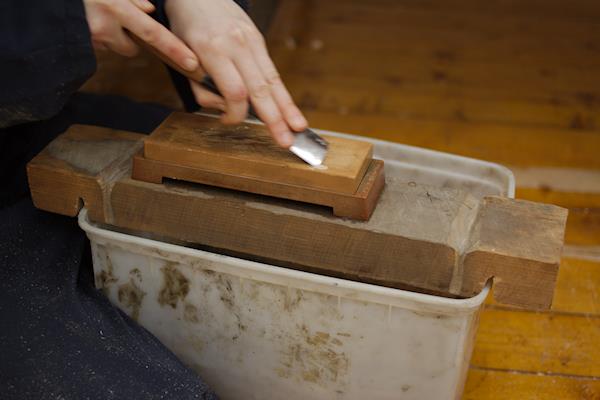 Workstations
During the workshop we work in a simple weather shelter at Svarta Bergen quarry. All participants will have access to a personal workstation, consisting of a low-rise wooden platform. The work is performed sitting directly on this platform. Please note that you will be performing heavy physical work during the whole day, meaning that the workshop is physically demanding. You will sit low and use your feet to keep the wood in place against the dolly. Make sure to bring work clothes and warm clothes that are comfortable to wear when you sit down and work.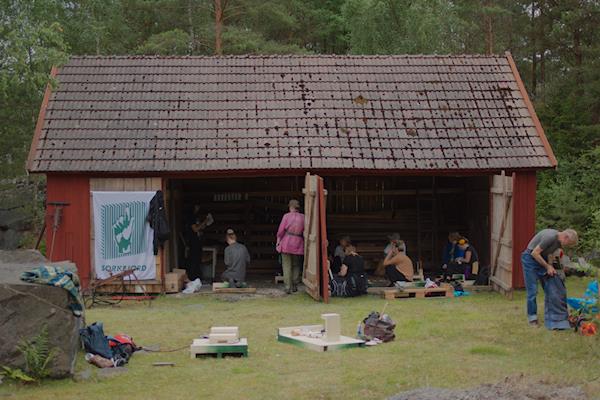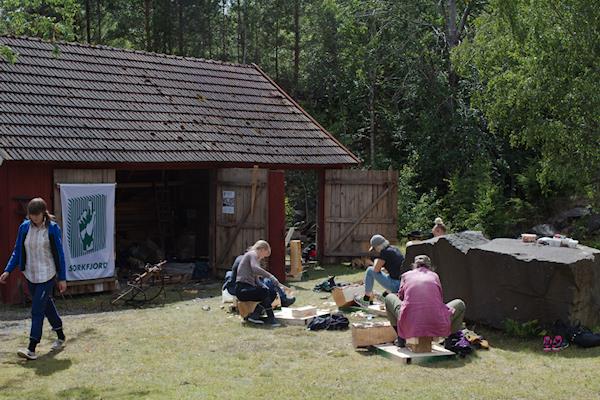 Walking path
Between the workplace at Svarta Bergen and the accommodation at Hjärtasjötorpet is a forest walk of 3 km and it takes about 30-40 minutes to walk. If you do not want to walk, we recommend bringing a bike. It is also possible to drive a detour by car between the workspace and the accommodation. Also be sure to bring a good hiking backpack and rainwear.
Accommodation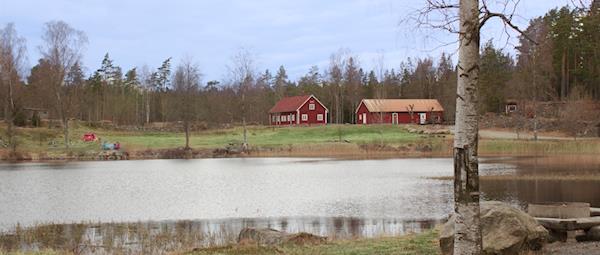 The course fee includes accommodation in Hjärtasjötorpet at Hjärtasjön. There is a kitchen in the house and the opportunity to buy snacks from Sorkfjord Performance's self-service store. The accommodation is hostel style dormitories with bunk beds, and the guests bring their own sheets. Just outside the house there are barbecue areas, a beautiful beach, a sauna and scenic walks.
Animals (except humans) unfortunately do not have access to the accommodation.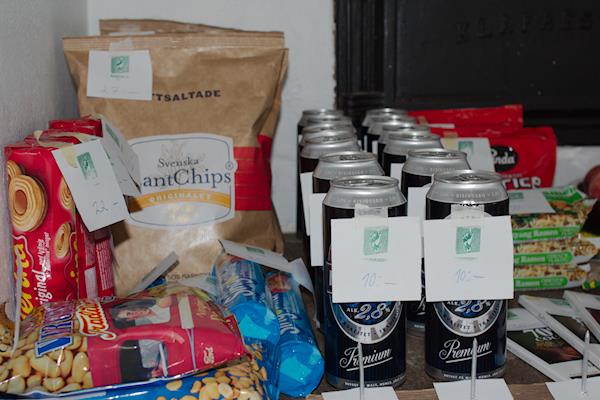 Food
The participants cater for all meals themselves. In Lönsboda (3 km from the workshop) there are supermarkets, cafés and restaurants. At the Svarta Bergens arbetslivsmuseum there is a café that also serves simple lunch. During lunch hour, however, we strongly recommend that you bring your own food box, prepared in the kitchen of the dormitory or bought in Lönsboda the day before.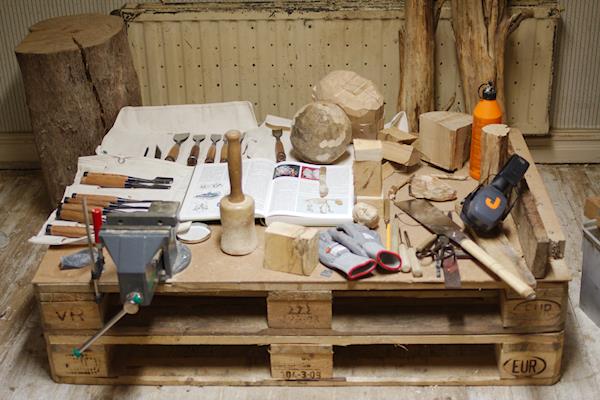 Tools required to participate in the workshop:
Ryōba, Japanese saw with cross-cuting and ripping blade (Sv: japansåg med kap- och klyvtandning), 200 mm long blade
One chisel (stämjärn) ~20 mm wide
One gouge (bildhuggarjärn) ~20 mm wide
Carving knife (slöjdkniv), max blade length 60 mm
One flat rasper for wood (plan trärasp)
Two sided sharpening stone (tvåsidigt bryne), grit 400/120 or similar
Gloves, cut resistant. It is important that the gloves are flexible so that you can wear them even when performing precision tasks.
You also need the following:
A container to wet the sharpening stone, minimum 180 mm long, 70 mm wide and 50 mm deep. A big ice-cream package usually serves the purpose well.
Hearing protection that are comfortable and can be worn for the whole day, preferably earmuffs or custom molded plugs.
Comfortable outdoor work and rain wear, suitable for working in a sitting position.
Sheets for your bed in the dormitory.
Backpack for the walks in the forest.
Mobile phone. During the course we use a sms group to reach the participants.
Tools for sale
Sorkfjord Performance is working during the spring to develop a webshop where the tools of the workshop will be available. More information about this will be published here and in our newsletter.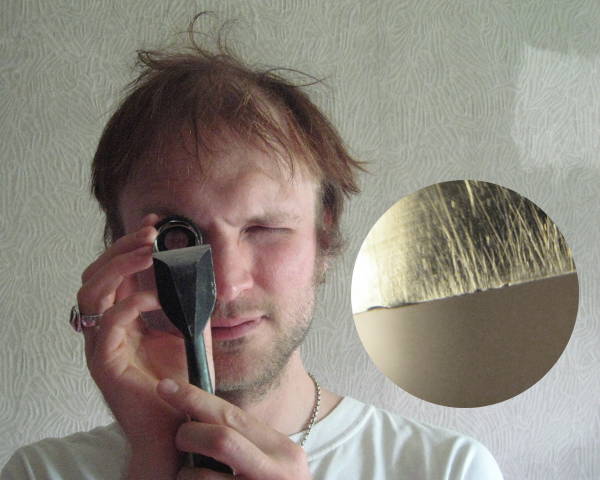 Travelling there
We meet Monday 25th of June at Lönsboda bus station at 08:30 am. We leave our luggage, which runs by car to the accommodation. We walk together to Hjärtasjötorpet for meeting and refreshments.
The nearest SJ train stations are Älmhult and Osby. Skånetrafik's buses go all the way to Lönsboda.
By car you can drive to Hjärtasjötorpet or Svarta Bergen.
Workshop language
The main spoken language of the workshop will be Swedish. However we welcome English speaking attendees as long as they are aware of and fine with these conditions. Individual tutoring is available in English, but the lectures will be held in Swedish.
About the instructors
Julia Bondesson mfa has studied traditional techniques of wood sculpture in Thailand and Japan. Reciever of the 2015 Beckers Award for her work with large-scale wood sculptures.
Alexander Wireen mfa works as a multi-disciplinary artist. Wireen has studied traditional Taiwanese glove puppet theatre under Master Hsu Wang of Hsiao Hsi Yuan Puppet Theatre.
Contact
We are looking forward to your questions about the course! Do not hesitate to use our contact form and we will get back to you as soon as possible.
When you register for the workshop, the following terms apply:
Course fee
The course fee is 9 500 SEK (incl. 25% VAT). Within seven days from registration you will receive an invoice by e-mail. The invoice has a payment deadline of 30 days.
Cancellation policy
Counting from the day when the participant registered for the workshop the participant has a 14 day right to cancel their registration and get their money refunded in compliance with the Swedish distance purchase law. After that the registration is binding and unfortunately we do not have the possibility to refund should you not be able to take part in the workshop.
We stipulate the right to cancel the workshop in the case that there are not a large enough number of participants to cover our arranging costs. In the case that we cancel the workshop, attendees that have already signed up and paid the workshop fee will get their money refunded.
Things to bring
Be sure to check out the list of things to bring, and bring them.
Sorkfjord's use of documentational material from the workshop
During the workshop Sorkfjord will take documentation photos and video/audio to be used for promoting future workshops. Your individual work might be visible and recognizable in these documentations, but we will avoid using images where your individual work is prominent as promotional images. By registering for the workshop you agree to that Sorkfjord can use documentational material like photos, video and audio from the workshop for promotional purposes.
Rights to your work
You own and dispose the wood material intended for the exercises at will. Your finished practice sculptures and other things you create during the workshop are your property physically and legally, with the exception stated above regarding that your works might be visible in photos we use for promotion.
Consent to the storage of your information according to the Swedish personal data act
(Sv: personuppgiftslagen)
Sorkfjord will register the data you enter in the registration form (name, address et cetera). We will use your e-mail address for sending information about the workshop and future activities in Sorkfjord Performance. You can at any time unsubscribe from these e-mails by clicking on a link in the mail or by contacting us. All registered informations is for Sorkfjord's internal use only.
Insurance
Sorkfjord Performance do not have any incurance for the participants of the workshop. Please make sure to have a valid incurance.
Change of content of the workshop
We are constantly working on making the workshop even better. Therefore the exact schedule is subject to change and will evolve over time.
First-come, first-serve policy
The workshop has a limited number of attendees. We practice a first-come, first-serve policy. If you sign up when the workshop is already full, you will get on the waiting list and receive an e-mail.
E-mail communication
All communication regarding the workshop will be via the e-mail address you provide. You might want to add our email address to your address book to make sure they do not end up in your spam folder.